HRP-labeling of proteins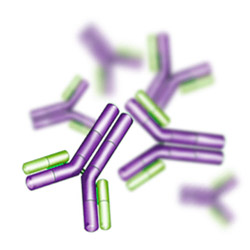 Horseradish peroxidate (HRP) is a frequently used reporter enzyme for detection of bound antibodies. Direct labeling of antibodies may have advantages regarding design of assays, since it omits the need for a secondary antibody. Direct labeling may also circumvent problems when using several antibodies in the same setup, concerning antibodies made by the same species.
Alexotech performs custom-based HRP labeling of antibodies.

Price examples:

HRP conjugation of 0.2 mg antibody 400 USD

HRP conjugation of 1.0 mg antibody 500 USD

*If antigen is delivered together with the antibody Alexotech offer a free ELISA analysis to ensure a good conjugation

AlexoTech may also perform HRP conjugation to your specific protein of choice.

Please contact us for details.